People who experience a property loss are usually asked by their insurance company for proof of purchase which can come in the form of a receipt or current inventory of their personal belongings.
Even the most organized people might find it challenging to find receipts for all the valuables in their home. If the inventory isn't up-to-date, a homeowner might forget to add some items to the claim and may not recognize the omission until long after the claim is settled.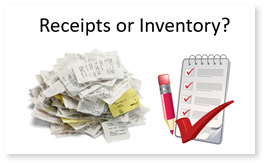 An inventory can serve as a guide to make sure a homeowner gets compensated for all the loss.
Photographs and videos can be adequate proof that the items belonged to the insured. A series of pictures of the different rooms, closets, cabinets and drawers are helpful. When video is used, consider commenting while it is being shot, and be sure to go slow enough and close enough to things being recorded.
Good places for your inventory might be a safety deposit box or digitally in the cloud if you have server-based storage available like Dropbox.
An accurate home inventory can help you make sure you have the right insurance protection, and in the event of a loss, it can make filing a claim easier.
Whether it's your flat-screen TV or your favorite pair of designer shoes, your possessions are important to you. Making sure your stuff is protected by an insurance policy and keeping track of your belongings in a home inventory can help save you hassle and money if the unexpected occurs.
For more information and tips on becoming a better, more informed homeowner, please give us a call. We're happy to answer any questions you might have regarding real estate, home-ownership, our current market, or our local community. We look forward to hearing from you!
Gee Dunsten
410-251-8233